Working outside in the Winter can be pretty tough especially if you're filming or modelling and your outfit isn't designed to keep you warm in freezing temperatures!!
Winters in the UK sometimes seem endless and with tempertures set to be way below freezing next week the Models Direct team have put together their favourite coats this season to keep us warm while looking stylish.
ASOS Tall Borg Raincoat is super practical, but fashionable at the same time. Love this light grey colour, rainproof and lined with a soft fleecy finish to keep you super snug – it's a winner!
Longline padded coats are big this season and this one from New Look is no exception! With it's additional padding for warmth and it's faux fur trim hood it's the perfect all round coat to keep you warm while waiting to go on set or to quickly snuggle into after bearing the cold for photographs.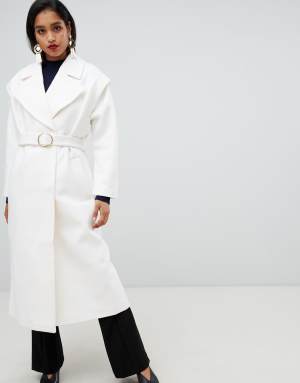 For the super stylish this ASOS belted 80's coat is so beautiful. With it's bell shape sleeves and long length it is a very flattering shape and will leave you feeling warm and snug while still being incredibly glamorous on set and between shoots!
Models and individuals who work in the talent industry have to have a huge amount of energy and be resiliant to lots of factors that could happen at any time. Weather is a big one and lots of photoshoots and events can be weather dependent!
If you are doing an assignment that is outside, whether that be a photo shoot or are filming, it's important you come prepared for all  weather conditions, there's nothing worse than hair and make up spending hours on you for you then to get drenched in the rain or so cold you can't stand to be outside anymore – this will all show in the final images which is never ideal!